Hello and welcome to Allergy-Free Wednesdays (AFW). AFW is a weekly blog hop where folks can share their allergy-free cuisine, gain knowledge about allergy related topics/issues and connect with others living or caring for someone with food allergies.
This is a weekly blog hop hosted by myself and 6 other fabulous allergy-free bloggers. Your weekly submissions are shared on all 7 blogs! I look forward to this event every week and am so grateful to be part of such a wonderful community of bloggers!
Each week, we feature our 3 favorite recipes from the week before as well as the 3 most popular recipes. We also pin all of the favorites to bring more love to your sites! 

Your AFW hostesses are:
What can I link-up on AFW?
*We welcome allergy-free cuisine in any shape or form
*Tips & allergy related articles/information are welcome
*Food allergies, intolerances, and sensitivities all welcome
Rules & Guidelines *Please provide a link directly to your post (not your homepage).
*Please provide a link back to our weekly blog hop somewhere in your post.
*Past and current recipes welcome.
*Please provide a description of your recipe, such as DF (dairy free), GF (gluten free), SF (sugar free), V (vegan), etc.
*Recipes do not have to be free of all common allergens, just allergy-free in some way.
*Two weekly submissions max please.
*Grab yourself a badge and help support Allergy-Free Wednesdays and the allergy-free community.
*Entries that don't comply with stated rules and guidelines will be respectfully removed.
*Please leave a comment after you link-up and tell us about your weekly submission(s). We love to hear from you!
By linking up, you agree that I may make use of any applicable pictures in my Allergy-Free Wednesday posts, and that, by your entering, you are giving permission to use them and/or re-pin them via Pinterest. You also, by entering, guarantee that the picture is not someone else's work , or else has a broad license (for example with stock photography put in public domain).
Here is a key for labeling your recipes:
GF= Gluten Free
DF= Dairy Free
SF= Refined Sugar Free
V= Vegan
The Top 3 Reader Favorites From Last Week:
Grain Free Blender Brownies @ Small Footprint Family
No Bake Cookie Smoothie @This Chick Cooks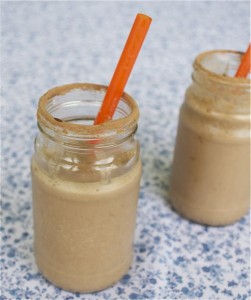 Frozen Stuffed Banana Sandwiches @ Peanutbutter & Peppers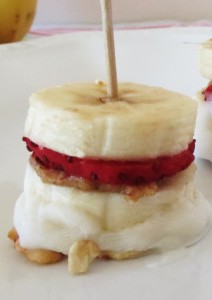 My Top 3 Picks:
Sweet: Red Velvet Carob Cake @ Including Cake
Savory: Red Wine Marinated Fajitas @ The Sprouted Life
Grain-Free: Fruit Pizza @ The Unrefined Kitchen
Please visit the other 6 Allergy-Free Wednesday hostesses (blog links can be found above) for their recipe highlights.
Thank you for visiting Allergy-Free Wednesdays!